Mobile home in France
You are planning on traveling to France for your next holidays? You are looking for a compromise between renting a house and going camping? Then why not staying in a mobile home this summer? These little houses offer all the comfort and intimacy you need while being able to enjoy the all the nice facilities of a campsite: pool, shops, restaurants etc…
France is home to so many beautiful places to visit: the Aquitaine Charente Maritime, Provence, or Corsica, to name a few. Make sure you get a cosy and convenient place to stay while you are visiting!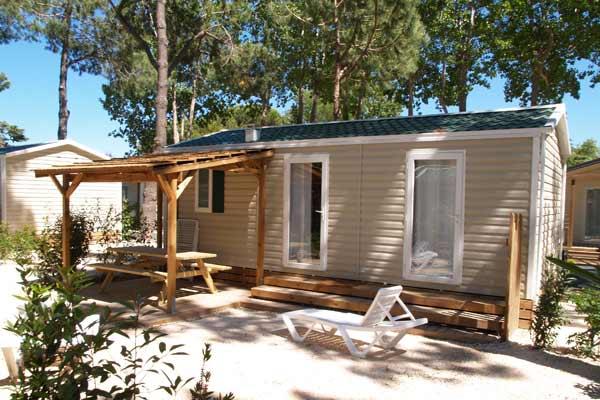 Go camping for your next trip to France
France has a lot to offer… From the wonderful beaches of the Cote d'Azur to the marvellous views in Brittany, all the regions of the country deserve to be seen.
Going camping is a great experience and an affordable option for people of all ages and even for families with young children. Kids usually love the freedom provided by the outdoors living and enjoy the facilities at their disposal on campsites.
Campsites are characterised by a friendly spirit. You and your children will have the opportunity to meet new people and make friends, whether for the holidays or even for a lifetime.
Most campsites have a shared pool, a lake or even a water park on the premises. There may be on-site facilities like restaurants or grocery shops. French campsites are also equipped to keep you entertained: ping-pong tables, table football… you will have no excuse to get bored! Your stay may also be an opportunity to discover French games like pétanque, which is also part of the local culture, especially in the South: in Provence Alpes Côte d'Azur or in the Languedoc-Roussillon.
Mobile home: conviviality and comfort in one place
Staying in a mobile home instead of a tent has many advantages. You can enjoy the atmosphere and conviviality of the campsite while living in a home with all mod cons. This type of accommodation is especially suitable for families with young children.
The number of bedrooms varies from one mobile home to the other, which means you can accommodate all the members of your families with just the amount of beds you need.
Unlike when you stay in a tent, you do not have to assemble and dismantle your equipment. It spares you of lot of time, especially if you stay on the campsite for a few nights only. Moreover, you don't need to carry all your camping material with you: tent, sleeping bags, pillows, etc… All you need to do upon arrival is to unpack your suitcase.
Mobile homes are very comfortable and make you feel at home. They include all the amenities (kitchen, bathroom, toilets, heating) and sometimes even Wi-Fi and a TV. The small house may have a terrace where you can eat dinner or relax and read a book. There are even some luxury mobile homes which feature high-quality equipment.
---